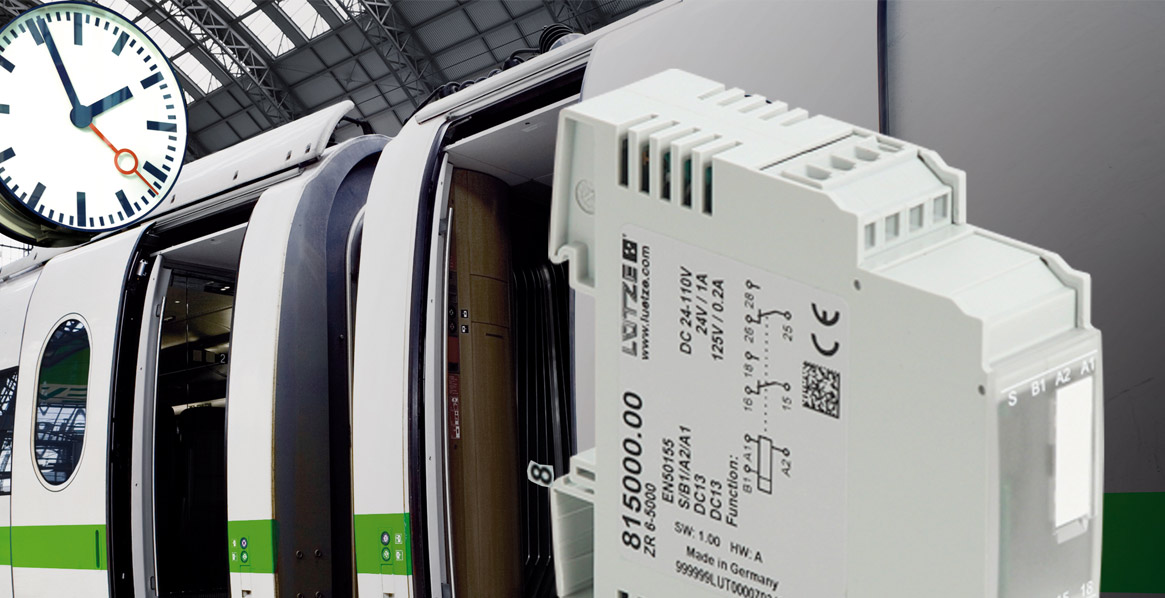 September 09, 2014
Time for safety
Rail equipment specialist LÜTZE Transportation, Weinstadt has expanded its multifunction time relay series ZR to include a version with positive action contacts for safety-relevant applications.
The LÜTZE time relay with positive action contacts is used for time-controlled and safety-relevant switching processes in control, starter and protective applications. With one N/C contact and two N/O contacts, the time relay meets the requirements of the EN 50205, application type A. The time and diagnosis functions of the LÜTZE time relay can be programmed via the serial interface and the "LÜTZE Time Relay Configurator" in a few simple steps. Thanks to an extended-range power supply DC 24-110V the time relay can be used in all rail networks both on diesel and also electrical vehicles.
The LÜTZE Transportation time relay is used wherever safety functions on the one hand and time-controlled switching processes on the other hand are necessary. For example, on rail vehicles in the field of doors, brake or fire alarm systems.
Thanks to the PC-based software configuration, the LÜTZE multifunction time relay is highly suitable for various tasks in the rail technology field. The time relay not only has a configurable diagnosis output but also 12 different timing functions with time setting options of between 0.05s and 24h with a precision level of ± 2ms or ± 1%.
The LÜTZE time relays are specially designed for installation in rail vehicles and satisfy the standard EN 50155 and the standard fire protection regulations.
In addition to the new version with positive action contacts, there are three other versions: Relay with 2 changeover contacts, semiconductor output 24V / 3 A and semiconductor output 110 V /1 A. The LÜTZE time relays have a narrow and compact casing for DIN rail assembly. To rule out manipulation, the LÜTZE time relays are equipped without control elements.
Background information about positive action contacts
A positive action contact comprises at least one N/C contact and at least one N/O contact with an additional mechanical device that prevents the N/C or N/O contacts being closed at the same time. In this way it can be ensured that an opened N/O contact can be recognised by a closed N/C contact and vice versa. Opening a contact is always based on the assumption that the other contract is closed at the same time.
Number of characters: 2.599
Press contact
Wolfram Hofelich
Lütze Transportation GmbH
Bruckwiesenstr. 17-19
71384 Weinstadt
presse

(at)

luetze.de
Tel +49 7151 6053-0
Press download