2014

USB charger for the driver's cab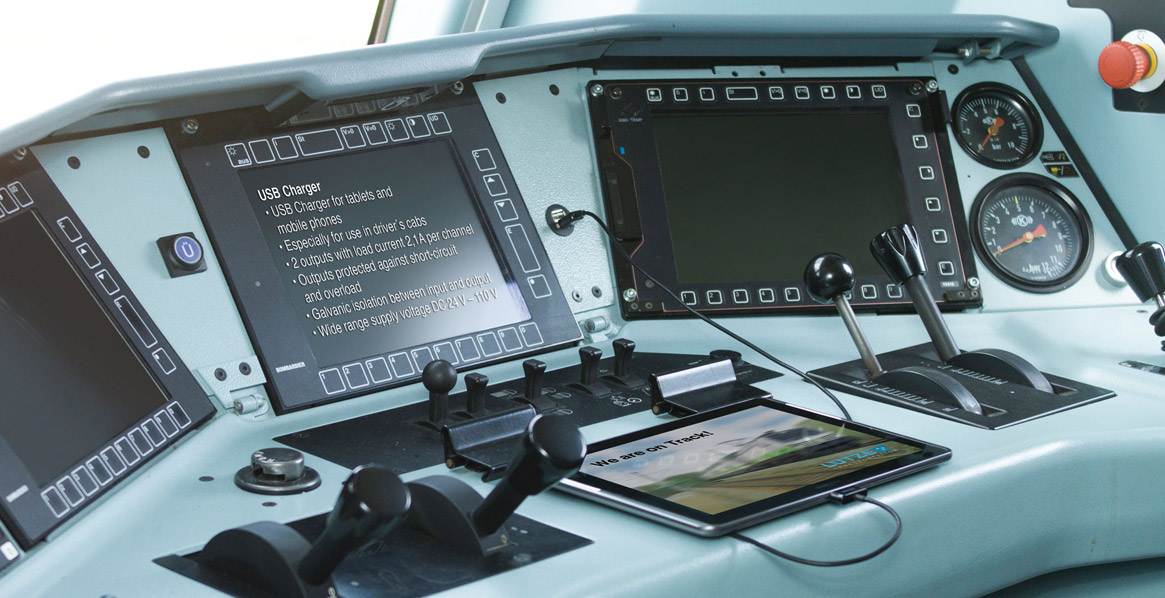 September 15, 2014
USB charger for the driver's cab
For the first time, rail equipment specialist LÜTZE Transportation, Weinstadt now supplies a rail equipment-compatible USB charger in compliance with EN 50155 allowing train drivers to charge mobile telephones and use tablet PCs in the driver's cab.
Increasingly, mobile end devices, such as tablet PCs and mobile telephones are used in the driver's cab. The "paper-free driver's cab" is becoming reality: driving data, such as route tables, timetables and low-speed sections can be updated easily and quickly. LÜTZE Transportation now supplies the DC/DC converter 819001, a rail equipment-compatible charger . With its wide range voltage input of DC 24V to 110V, the charger is designed for different rail onboard supplies in diesel and also electrical vehicles.
Two mobile end devices can be charged on the new LÜTZE DC/DC converter. Two output channels provide a charging current of DC 5 Volt each with 2.1 Amperes. Green LEDs are indicating the correct output voltage at each channel.
The galvanic isolation ensures safety and separates the mobile device that is being charged by the onboard supply: this means that voltage peaks cannot cause any damage. The output-side protection device also offers short-circuit and overload protection.
The charger has a sturdy and compact aluminium housing and is suitable for DIN rail mounting in compliance with TS35-15 or TS 35-7,5. The working temperature range of the LÜTZE DC/DC converter is – 40°C to + 70°C. The charger is not only designed according to the previously mentioned EN 50155, but also to the rail standards EN 50121-3-2, EN 50124-1 and EN 61373.
Number of characters: 1.911
Press contact
Wolfram Hofelich
Lütze Transportation GmbH
Bruckwiesenstr. 17-19
71384 Weinstadt
presse

(at)

luetze.de
Tel +49 7151 6053-0
Press download