2016

Customised warning tones for Rail Technology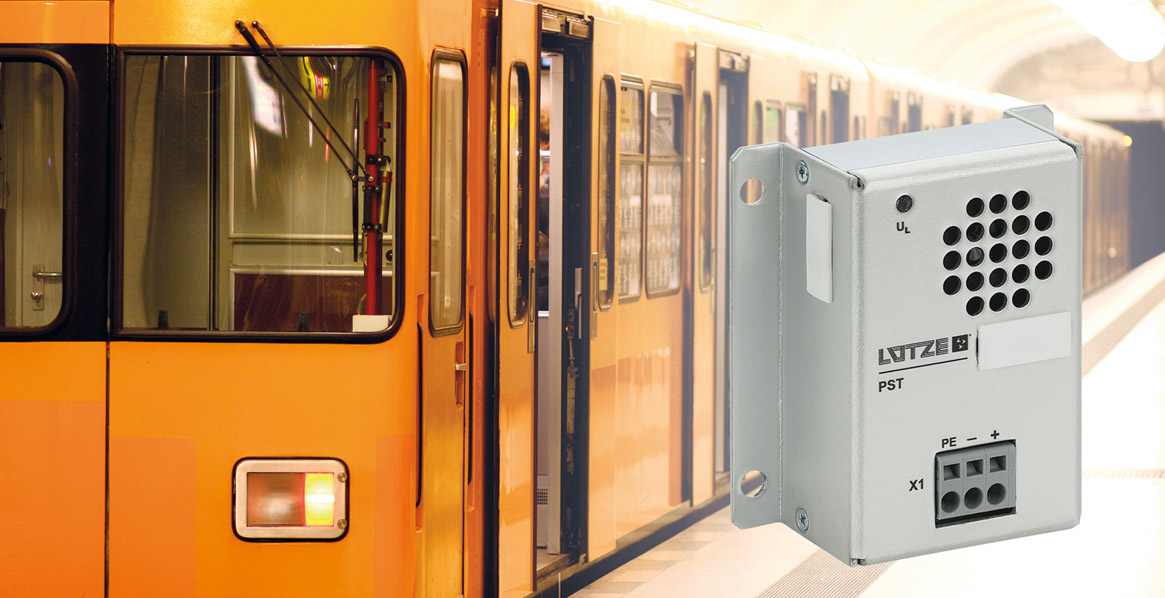 July 27, 2016
Customised warning tones for Rail Technology
LÜTZE TRANSPORTATION has expanded its 'Indication Technology' product range to include configurable and universal Piezo signal encoders PST.
Thanks to its DC 24-110V wide range input, the new Piezo signal encoder PST from LÜTZE TRANSPORTATION can be used across the world in all networks both in diesel and also electrical vehicles. Railway manufacturers and operators can use the LÜTZE PST to programme warning signals individually. Volume, frequency range and three operating modes can be configured, either by LÜTZE or the customer. The Piezo signal encoder is ideal for retrofitting or as a new installation in driver's cabs and passenger areas. The programmable Piezo signal encoder can be configured intuitively and easily via the LÜTZE Piezo Configurator Tool. The Piezo signal encoder PST is available in three different installation models for Din rail profile and alternatively for wall or rear wall mounting.
Warning signals in rail technology have a long life span
Many locomotive drivers and train attendants have become accustomed to certain acoustic fault and warning signals over the years; these tones have practically become fundamental audiophile features. In the case of retrofitting or when an existing warning signal encoder is replaced, the question that needs to be addressed is how the familiar warning signal can be 'recreated'.
The advantage of the PST warning signal encoder from LÜTZE Transportation is that it now offers the opportunity to achieve customised warning signals. Configuration with the free LÜTZE Piezo Configurator Tool is easy to use and allows a variety of settings. There are ten volume levels to choose from. The maximum sound pressure is 96 decibels at a distance of 1 metre. This means that warning signals can be unmistakably heard even if there is a lot of background noise. As a comparison, a pneumatic drill produces 80 decibels. The frequency range of the PST warning signal encoder can be set between 200 and a maximum of 4.000 Hertz.
The operating modes of the LÜTZE Piezo signal encoder PST
There are three different operating modes available for the signals: Continuous mode, with a frequency f1 and an optional run time t1. (see Fig. 4).
In the interval mode an impulse pause mode can be set. The frequency f1 is configured for an optional total run-time t1 with on times t2 and off times t3 (see Fig. 5).
As a third option (see Fig. 6), the alternating mode can be set in which two frequencies alternate. Both frequencies are each configured with an optional total run-time t1 and individual run-times t2, t3.
Simple handling and multiple installation properties
The LÜTZE signal encoder has a sturdy and compact aluminium casing and can be mounted in one of three ways: On the Din rail in the driver's cab, onto the wall in the locomotive, for example, as a fire signal encoder in the machine room, or mounted to the rear wall, for example, near the passenger doors.
Users of the LÜTZE ZR time relay and LCON converter can also use their USB programming cable to programme the LÜTZE PST signal encoder. The PST warning signal encoder can be used at temperatures of between -40° C and +70° C and satisfies the standards and specifications for electrical components on rail vehicles such as the EN 50155:2007-07, EN 50121-3-2:2006-07, the EN 50124-1:2001-03, the EN 61373:2010-09 and the EN 45545-2:2013.
Author: Andreas Schindler, Product Manager Lütze Transportation GmbH