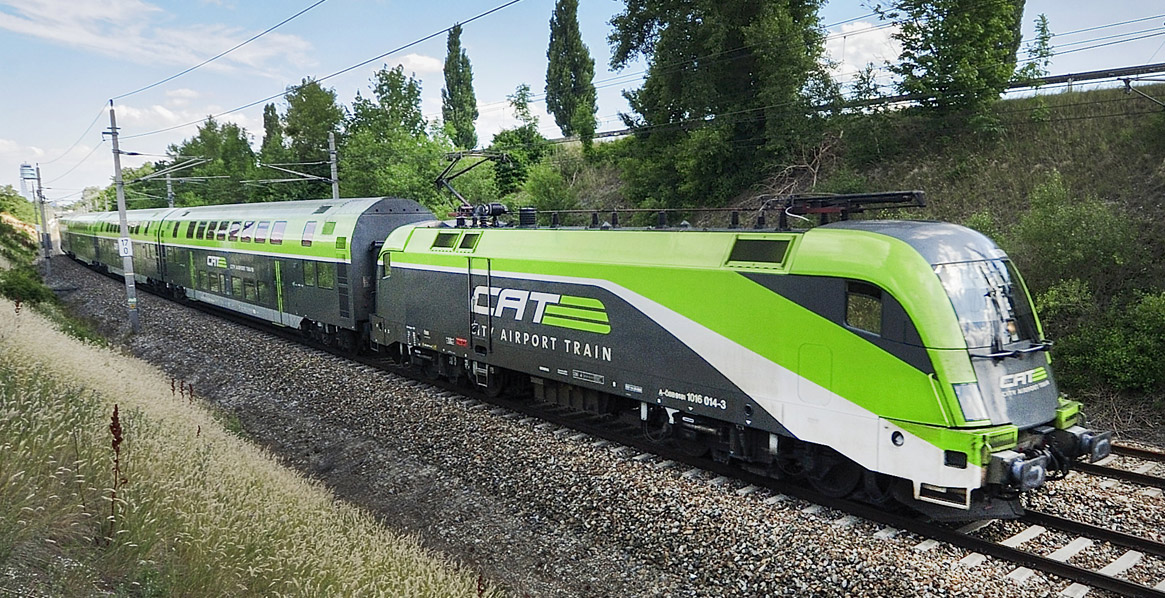 Audio Signal Transducers: the appropriate sound for business in the bathroom
Product range:
Indication
The City Airport Train (CAT) brings travellers from the airport into Vienna city centre. In the sanitary areas of the train, panoramic photographs and musical classics prepare tourists for the sightseeing gems in the city. LÜTZE provides the appropriate sound for business in the bathroom.

Having to go to the toilet on a train - there are more pleasant activities. But in the CAT, everything is different. Just imagine - you open the door of the WC and find yourself in the Viennese Prater park with the big wheel in front of you! Or in front of the Hundertwasser house, the State Opera House, the Vienna Secession, the Town Hall or the Stift Klosterneuburg (monastery).
Rooms transformed; passengers enchanted
The operator of the CAT commissioned the popular sightseeing locations to be "moved" on board into the six train WCs. The respective panoramic photos run from the side walls via the shelving, right down to the toilet seat, covering the entire room. With the additional acoustic background music, passengers are per-fectly prepared for their visit to Vienna.
Sounds to match the tourist attractions
Music and suitable background noises that match the respective motif enliven each scenario. For example, in the WC containing the Vienna Opera House, we can hear the audience whispering; instruments are tuned and then Mozart's "Le Nozze die Figaro" begins. To complement the panorama of the Prater park, we hear the theme music from the film "Der dritte Mann" (The Third Man) with the unmistakable zither sound by Anton Karas. Those visiting the toilet decorated with Vienna's Town Hall will hear market noise and the Johann Strauss classic "Wiener Blut" (Viennese Blood). A special fragrance is also added to the visual and acoustic accents for further sensory enjoyment.
Audio signal transducers can also waltz
The musical background is what brings LÜTZE into the "experience" of these WCs. Or more accurately, the audio signal transducers by Lütze Transportation GmbH. Rail transport places particularly high requirements on signaling, control technology and interfaces. The IRIS-certified solutions by LÜTZE cover all of these areas. Normally, the audio signal transducers are used in the driver's cabs on locomotives and railcars. The warning signals or alarm announcements are emitted from the loudspeaker. However the City Airport Train can even repro-duce finely differentiated musical audio files.
With the WC Refurbishment Project, the CAT once again underlines the focus on its customer. The operators are the airports Wien AG and the ÖBB (Austrian Federal Railways). Featuring many different services, they provide Vienna's fast-est and most comfortable connection between the airport and the city centre.
Author: Andreas Schindler - Product Manager Interface / Signaling, Lütze Transportation GmbH