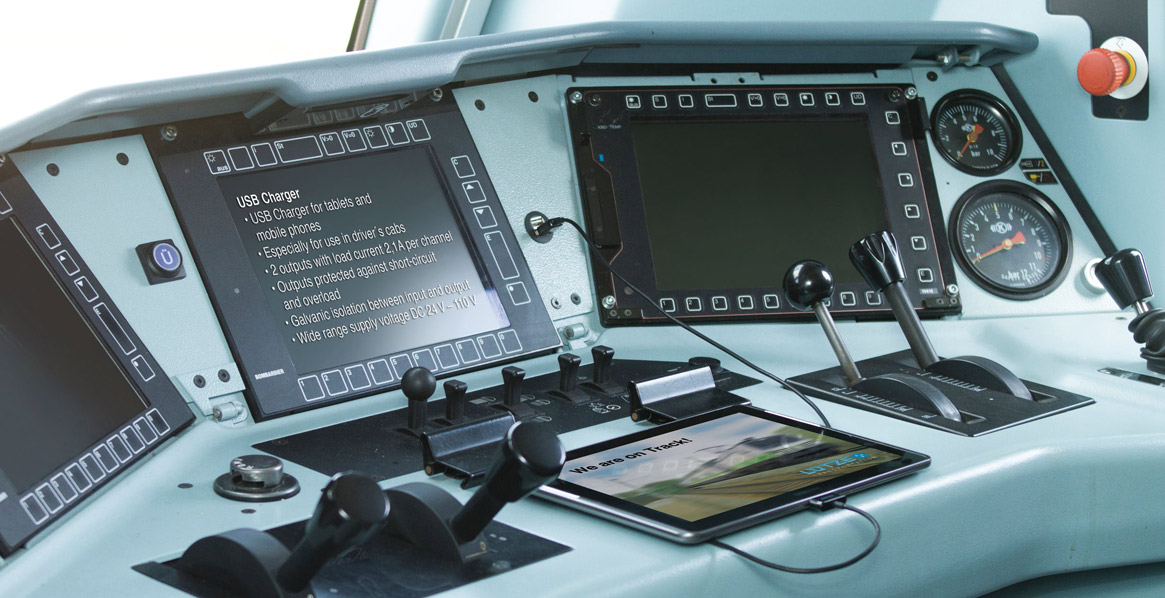 Charge up your smartphone - even at 300 km/h!
USB Charger - Power for Tablet & Co.
Tablets and smartphones are today an essential part of our everyday lives. These smart helpers have also made their way into rail vehicles. Where before numerous documents provided information on timetables, instructions and rules, the driver now receives all information compactly and up-to-date on an Internet-capable tablet PC. This saves paper, value space in the driver's cab and time when searching for the right document.
Even the distribution of the documents is much simpler. Where previously amended documents had to be distributed to thousands of train drivers and to numerous drive vehicles, today it just takes an update to the server and all of the relevant people have the latest documents in real time. The power supply for devices could previously only be provided via temporary components. Frequently the non-train compatible charger devices from the tablet PC manufacturers were used in 230 V Schuko sockets.
In addition to the missing type test, this solution has other disadvantages. There is no electric isolation between the vehicle network and the USB connection. The Schuko socket near the driver's desk is permanently in use and the cable routing to the driver's desk can only be "floating". Therefore the Lütze Transportation GmbH has developed a tailor-made solution for this application scenario. The USB charger system has been specially designed for use on rail vehicles. The compact unit can be simply snapped on to an existing DIN hat rail and is also suitable for new vehicles and retrofits on existing fleets.
Thanks to the wide range input, which is designed for a voltage range from DC 24 to 110 Volts, the charger system can be operated on all standard train battery networks. At the output there are connections for two USB devices, each has a charging current of 2.1 A per output. Due to the high output current, even powerful modern tablet PCs can be charged in a short amount of time and thanks to the second output, the driver's business mobile phone is also powered with electricity.
The short circuit protected and overload protected outputs are designed plug-in spring terminals and provide individual connections for pre-fabrication USB mounting sockets. On request, Lütze Transportation GmbH can also provide a complete set of USB charger devices and customer-specific pre-fabricated USB installation sockets, e.g. for installation in the driver's desk or wall panels.
USB-Charger
USB Charger for tablets and mobile phones

Especially for use in driver´s cabs

2 outputs with load current 2,1 A per channel

Outputs protected against short-circuit and overload

Galvanic isolation between input and output

Wide range supply voltage DC 24 V – 110 V