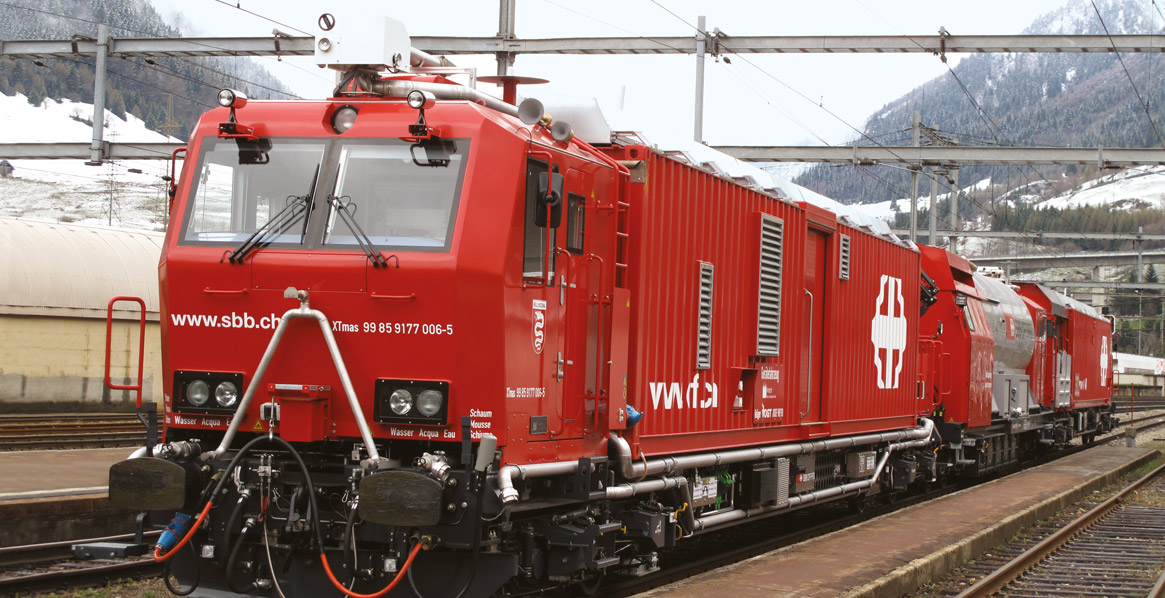 Windhoff's firefighting and rescue train with DIORAIL PC2 Control
Product range:
Control Technology
The Swiss Federal Railways (SBB) have modernised their fleet of special-purpose vehicles with firefighting and rescue trains (LRZ) manufactured by Windhoff. These new vehicles are equipped with LÜTZE control technology.
The number of railway tunnels is rising worldwide. The SBB's tracks pass through more than 250 tunnels. The risk of potential accidents is always present. An incident in a tunnel can have devastating consequences. Not only can human lives be lost, but there is also the possibility of irreversible environmental catastrophes, for example when toxic substances are being transported. A consortium under the leadership of Windhoff Bahn- und Anlagentechnik GmbH of Rheine, Germany, has received an order to supply eight LRZs, "helpers in emergencies", to the SBB in Switzerland.
The LRZ consists of three vehicles: an equipment vehicle (with power unit, air compressor, firefighting equipment), a tank wagon (with a 50 cubic metre water tank and 1,800 litres of foam extract), and a rescue vehicle (with space for up to 60 injured and uninjured passengers from tunnels, with separate supply of breathing air and equipment for 23 firefighters).
Both the equipment and rescue vehicles have their own diesel engines. Thus in the case of a tunnel fire the train can be separated, with one part remaining at the scene to deal with the incident, and another part shuttling back and forth between the accident site and the outdoors to evacuate the passengers.
The firefighting and rescue train is used not just for tunnels, but also as an intervention vehicle. The railway emergency services also accomplish tasks that can be reached from the tracks. These include clearing accidents, extinguishing fires and towing broken-down trains.
For this project, LÜTZE is supplying the complete control technology, consisting of a DIORAILPC2 vehicle main control unit with integrated Windhoff train bus for implementation of multiple-unit train control, etc., and multiple decentralised I/O nodes from the DIOLINE20 product family linked via CANopen.
This makes it possible to control and monitor the intercommunication of all components of the vehicle, such as the drives, the brakes, the operation and display instruments in the driver's cab (display, control levers), and much more.
LÜTZE's service and support naturally include intensive consultation and continued assistance to the customer in creating the software. The cooperation between the companies LÜTZE and Windhoff has been very pleasant at both the technical and personal levels. We are looking forward to our next mutual challenge.